Infrastructure as a Service, or IaaS, is a powerful cloud-based solution that offers businesses of all sizes the ability to manage their IT infrastructure and technology resources in a more efficient, cost-effective manner. Through IaaS, small businesses can benefit from the scalability, flexibility, and adaptability of the cloud, as well as the cost savings associated with utilizing a third-party provider for their IT needs.
Without the right tools and technology, your business may struggle to remain competitive. Additionally, you may not have the resources to support a large IT team to manage your IT infrastructure. Without the proper knowledge, your business is at risk of security breaches and other issues related to your IT infrastructure. Finally, you may be struggling with scalability, as you simply don't have the resources to quickly and easily expand your IT infrastructure as needed. Infrastructure as a Service (IaaS) provides a cost-effective solution to these issues, allowing you to gain access to the tools and technology you need to stay competitive.
In this blog post, we'll explore the key benefits of IaaS for small businesses, including cost savings, scalability, security, and increased productivity.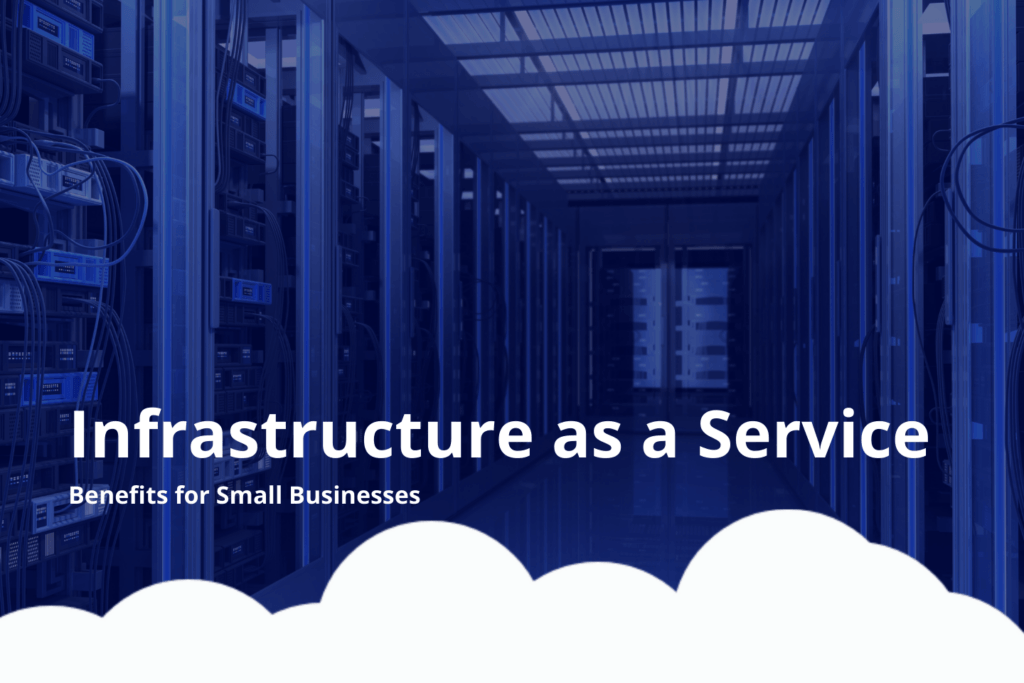 Cost Savings
One of the primary benefits of IaaS for small businesses is the potential for cost savings. Instead of having to purchase hardware and software upfront, IaaS allows businesses to pay for only the computing resources they need, when they need them. This can be an especially beneficial option for businesses with limited budgets, as they can save money on hardware and software while still being able to access the services they need.
Furthermore, IaaS providers typically offer a "pay-as-you-go" model which can be beneficial for businesses that need a certain type of technology for a short period of time. This way, businesses are only paying for what they need in the short-term, rather than having to make a large upfront investment.
Scalability
Another great benefit of IaaS for small businesses is scalability. With IaaS, businesses can scale their IT infrastructure up or down as needed. This is especially helpful for businesses in the early stages of growth, as they can quickly and easily increase their IT capabilities as their customer base and revenue grows.
IaaS also makes it possible for businesses to quickly launch new projects without having to invest in additional hardware and software. This is particularly useful for businesses that need to quickly develop and deploy new applications or services to gain a competitive advantage.
Security
Security is another major benefit of IaaS for small businesses. IaaS providers typically have advanced security measures in place to protect their data and resources from malicious threats. This includes encryption, firewalls, and intrusion detection. By using IaaS, businesses can feel confident that their data is safe and secure.
Furthermore, IaaS providers often offer an added layer of security for businesses in the
How does IaaS differ from ITaaS
IaaS and ITaaS are both cloud service models that provide businesses with access to the hardware, software, and other resources that they need. The primary difference between IaaS and ITaaS is that with IaaS, the cloud service provider is responsible for managing and maintaining the hardware and software, while with ITaaS, the cloud service provider is responsible for managing and maintaining the entire IT infrastructure. This means that with IaaS, businesses can lease the hardware and software they need without having to purchase and maintain their own hardware and software, while with ITaaS, businesses can outsource all of their IT infrastructure needs. Additionally, ITaaS provides more flexibility than IaaS, as it allows businesses to customize their IT infrastructure to meet their specific needs.
Infrastructure as a Service: Benefits for Small Businesses
IaaS can provide small businesses with many benefits, including cost savings, improved security, scalability, and access to the latest tools and technologies. With IaaS, businesses can lease the hardware and software they need without having to purchase and maintain their own hardware and software. This can save businesses a significant amount of money and eliminate the need to manage an IT team and infrastructure. Additionally, IaaS provides improved security, as the cloud service provider is responsible for managing and maintaining the infrastructure, ensuring it is up-to-date and secure. IaaS also provides scalability, allowing businesses to quickly and easily increase their capacity as their business grows. Finally, IaaS provides access to the latest tools and technologies, allowing businesses to stay competitive in a rapidly changing world